A utility workout bench is a piece of gym equipment that can help you work on your strength, fitness, and muscles. It's ideal for use with or without weights, and people can often use it for a multitude of different workout types.
If the time has come to look at your options, then you're in the right place. We've included ten top-rated utility weight benches below, including what to look out for to find the right one. It's time to go shopping.
Flybird Adjustable Utility Weight Gym Bench
If affordability and versatility are important to you when looking for a new utility weight bench, then check out this one from Flybird. As an adjustable, foldable, and user-friendly bench, it could be the answer for which you've been waiting.
The bench folds for convenience, and it also has a generous 10.6-inch backrest. If that's not enough to convince you of the benefits of this utility weight bench, then maybe the leather material will. Rather than put up with cracking and uncomfortable wear and tear, you can know that the bench material will handle daily use without much effort.
The bench itself is likely to impress. It features thickened steel, seven back positions, and three seat positions. It also requires no assembly and takes up minimal space in your home gym. If you need even more space, then all you need to do is fold it up. It's clear to see that this utility weight bench, with a 620-pound weight capacity, is all about user-friendliness.
Before you get out your wallet, though, please take a moment to find out why some people don't like it. Some people say it doesn't feel all that stable, and that the bench is too tall. If you can get past these points, then you'll surely see the value in adding them to your shopping cart.
Features
Foldable bench
Thickened steel construction
620-pound weight capacity
Seven back positions
Three seat positions
Automatic lock
10.6-inch backrest
Assembly-free design
Leather seat
Where to buy: $145.79 from Amazon | $170 from Walmart | $218 from Sears
Ativafit Adjustable Weight Bench
Achieving a full-body workout is easier than you think, primarily if you've invested in this utility weight bench from Ativafit. Even though the resistance bands are not the best, and the seat is quite high, most people are delighted with the value for money that's on the table with this piece of exercise equipment.
The first standout point is its size. Even though you can work out every part of your body, it doesn't take up much room in your home. It's also effortless to set up and takedown, which is undoubtedly something that many people appreciate.
The quality, even for its competitive price, is astounding, as well. It has high-density foam padding, a thickened support pipe, an ergonomic design, and seven backrest positions. What more could you need? Its 330-pound weight limit sees it suitable for a myriad of different people, too.
Before you spend a fortune on a gym membership or fitness class, check out this utility weight bench. It may be more suitable for your needs than you think.
Features
Seven backrest positions
High-density foam padding
330-pound weight limit
Ergonomic design
Thickened support pipe
Where to buy: $77 from Amazon | $96 from Walmart | $85 from eBay
Marcy Utility Weight Bench
Getting fit and healthy shouldn't be expensive, and while it is in many cases, Marcy is bucking the trend. This utility weight bench from Marcy is a compact, affordable, and easy-to-use weight bench that can take your workout experience to the next level.
It's easy on your wallet, challenging for your body, and targets different areas of your body with ease. It's made up of a mixture of steel, vinyl, and rubber, and has padded upholstery for comfort. Users also enjoy the padded knee and ankle foam rollers for support and comfort as they work out.
This utility weight bench allows you to work out in four different positions and doesn't take up much space in your home while you do it. It's also effortless to use – especially for beginners. However, it's by no means perfect.
Even though it's cost-effective, it has a few flaws. It doesn't support as much weight as other utility weight benches like it, with only a 300-pound capacity, and the assembly process is arduous. The single support bar also feels flimsy.
If you need something basic to start your new fitness regime, then this is the gear for the job. If you are after something a bit more robust, then you might need to keep looking.
Features
Steel, vinyl, and rubber construction
300-pound weight limit
Padded upholstery
Foam roller pads
Four positions
Padded knee and ankle foam rollers
Where to buy: $65 from Amazon | $77 from Sears
Weider Incline Weight Bench
Enter the fitness market with a bang, all thanks to this utility weight bench from Weider. Even though this is one of the most affordable utility weight benches for sale, it packs a punch regarding its quality and functionality.
It's black and red to stand out from the crowd, has a durable and easy-care vinyl seat, and it even comes with an exercise guide to offer helpful tips on how to use it. Even the assembly process is straightforward, which means it won't be long until you're working out and toning those muscles.
People also like how much adjustment this utility weight bench has, even though it's a lower-end model. The seat adjusts by 90 degrees, and there is also a leg lockdown feature with four rolls to help you along.
The comfortable, compact, and portable design is undoubtedly the icing on the cake. You can set this bench up, move it around, and store it away with no problems at all. Could it get much better than that? There's an uncomfortable gap between the back and seat, but that's where the negative points end. Enter the market on a high with this utility weight bench from Weider.
Features
90-degree seat adjustment
Black and red color scheme
Leg lockdown feature
Vinyl seat
Exercise guide included
Where to buy: $99.99 from Amazon | $105.20 from Walmart
Flybird Adjustable Bench
Get your foot on the exercise ladder with this utility weight bench from Flybird. While it's not going to suit any professionals or those who have a larger frame, it's the perfect place to start for someone smaller who wants to get fit and healthy.
It boasts heavy-duty steel, a 500-pound weight limit, six back positions, and four-seat positions. Its backrest thickness is around 9.7 inches for comfort, while foam spans around 1.8 inches. The leather materials, too, are a nice touch, as they are easy to clean and durable to last the distance.
What people also like about this utility weight bench is that it requires no assembly. As soon as it arrives, you can get your workout underway. Once you are finished, you can fold it up and store it out of sight and out of mind.
This utility weight bench may be better suited to smaller people, and its weight limit is questionable when you notice its instability, but it's still not out of the question for it to work for you. Compare the price to the value and add it to your shopping cart today.
Features
Heavy-duty steel
500-pound weight limit
Six back positions
Four seat positions
9.7-inch backrest thickness
1.8-inch foam
Leather materials
Assembly-free design
One-year frame warranty
Where to buy: $129.79 from Amazon | $162.87 from Walmart | $149.50 from eBay
Soges Multi-Functional Dumbbell Bench
Aside from quite a lengthy assembly process, this utility weight bench from Soges has a lot to offer the average exercise enthusiast. It's well made, durable, easy to care for, and provides a myriad of different exercise options to suit most people. If you are in the market for an affordable, high-quality utility weight bench, then this is most certainly a valid option.
It's sleek and stylish, has thickened steel and pipe construction, and it can hold up to 660 pounds of weight. Once you get to work on it, you will quickly see how versatile it is, too.
It has four back pad positions, three elbow rest positions, and over 20 different exercises to take your fitness routine to the next level. Once you're finished, it's also effortless to store away. Take your time to view all this utility weight bench has to offer, for it's likely to impress.
Features
Multi-exercise use
Thickened pipe construction
Powder-coated metal
660-pound weight capacity
Four back pad positions
Three elbow rest positions
High-density foam padding
Two heights
Adjustable leg hold bar
Where to buy: $129.99 from Amazon | $180.10 from Walmart,
Gymenist Foldable Compact Exercise Weight Bench
This utility weight bench from Gymenist isn't the most comfortable, nor does it have much padding or stability, but that doesn't mean it's not worth your full attention.
From its foldable and assembly-free design to its generous 550-pound weight limit, this utility weight bench has it all. It's also sleek, stylish, and easy to care for, which ultimately puts it in a league of its own.
When you use this utility weight bench, you get to enjoy three different positions for a multitude of exercises. It also comes with a cushion that you can move to make you more comfortable. When it comes to using the backbench, this moves into six different positions.
It's affordable to buy, versatile for beginners, and is lightweight and portable too. This utility weight bench may tick all the boxes for your needs, so check it out for yourself.
Features
Foldable
Assembly-free design
Three positions
Cushion included
550-pound weight limit
Six-position backbench
Where to buy: $89.99 from Amazon | $89.99 from Walmart, $179.99 from eBay | $137.28 from Sears
Finer Form 5-in-1 Adjustable Weight Bench
ADJUSTABLE INTO 5 DIFFERENT POSITIONS: Use this weight bench as a Flat Bench, an Incline Bench, a Decline Bench, or an Upright Bench. Folding exercise bench for home use and workouts.
FOLDABLE AND CONVENIENT: This Workout Bench is great for a variety of workouts at the home or gym. Good for apartments, small offices, or spaces. Workout, then fold it away until your next workout.
8 DIFFERENT ADJUSTABLE SETTINGS FOR DOZENS OF WORKOUTS: This adjustable bench is great for dumbbell workouts, ab routines, or custom fitness – Workout bench adjustable to your specific needs.
STABLE and SUPPORTIVE STRUCTURE: Foldable Workout Bench and gym bench constructed from high-strength steel to provide a solid base as you confidently work toward your fitness goals.
FREE WORKOUT CHART W/ PURCHASE: Get a free PDF workout chart that shows dozens of great exercises that you can do on your new 5-in-1 bench.
Product Specification
Brand: Finer Form
Model: 5-in-1 Adjustable Weight Bench
Weight Bench Type: Adjustable Benches
Assembled Dimension: 41.30 x 13.00 x 13.00 Inches
Material: Alloy Steel
Weight Limit: 660 Pounds
Where to buy: $149.99 from Amazon | $139.97 from Walmart | $89 from eBay | $223.67 from Sears
RitFit Adjustable / Foldable Utility Weight Bench for Home Gym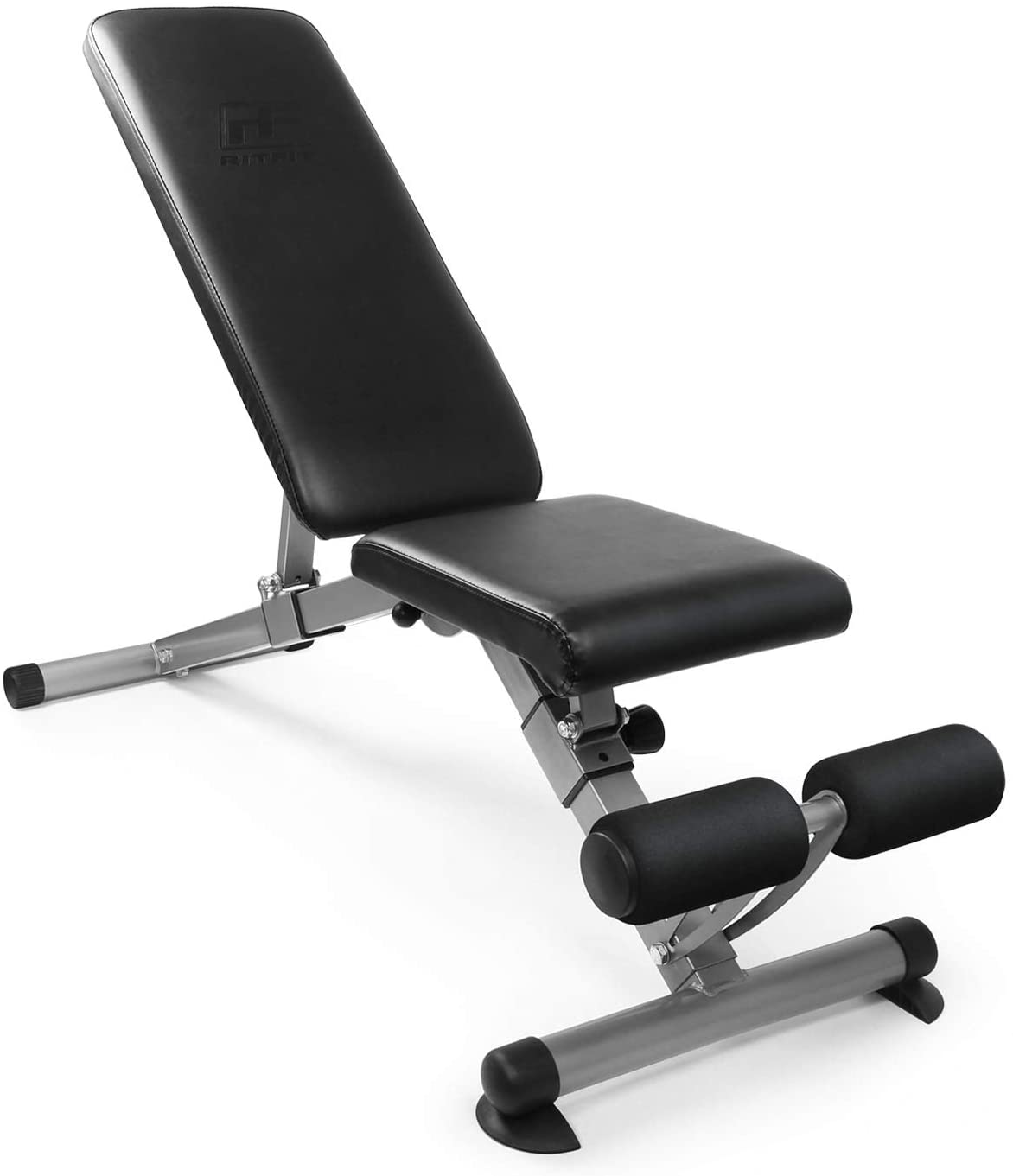 ADJUSTABLE AND UTILITY: The seat and back pads can be readjusted into different positions with 5 Back Position Adjustments & 4 Seat Position Adjustments. Tailor the bench to your training and lay it in an inclining, declining, or flat position for both weightlifting and equipment-free exercises such as crunches and curls! STEADY&SAFE – Made with a durable steel frame that guarantees solid construction with contoured foam roller pads providing an optimal amount of support and comfort to get the most out of your workouts!Max Load capacity: 800lbs. Tips: Recommended for home use not for commercial use! Ultimate Convenience: Foldable, easy to carry, minimal assembly requirement. Can be easily folded to stand on a wall, store in a closet, or slide under a bed.
ERGONOMIC DESIGNED BENCH: Compact yet multifunctional. The equipment is shaped in a way that allows maximum mobility when performing exercises without taking up too much space in your home. Features a soft leather that is filled with dense foam padding so it is comfortable to do multiple exercises. It allows for a wide array of strength-training exercises that focus on the arms, legs, chest, and core!
Product Specifications
Brand: RitFit
Materials: Foam, Alloy Steel and Leather
Dimensions: 48.8 x 18.5 x 45.5 inches
Weight: 33 pounds
Weight Limit: 800 pounds
Where to buy: $136.99 from Amazon | $152.96 from Walmart
FBSPORT Adjustable Strength Training Workout Bench
1000 lbs Dynamic Weight Capacity: FBSPORT adjustable weight bench designed with unique triangle structure, constructing with 1.3mm commercial thickness steel, 1000 lbs dynamic, 660 lbs static weight capacity, no worry for durablity and stability.
Fast Adjustment for Various Workouts: Designed with 6 back positions, 3 seat positions, 3 foot positions for full body workout. You just pull the pin, adjust the place which fit yourself and automatic lock. You can do bench press, incline dumbbell, sit-up and push-up, etc. to work out your muscles on chest, back, shoulder, abdomen, hip and arms.
Ergonomic Waist Cushion: Our workout bench comes with ergonomic waist cushion, more ergonomic and comfortable. You can move up and down the back of the bench to put it where its most conformable for you, to reduce the pressure on the lumbar / cervical spine.
Foldable & Save 80% Space: FBSPORT exercise bench, easy to carry & NO Assembly Needed, Fold Size: 34.68″ L x 14.48″ W x 9.17″ H, 0.2㎡. Storage under the bed or in the garage, when you finish workout. Fast assemble with simple methods in 2 minute.
Anti-slip Ankle Roller Pads: The Foot Bottom Tube is designed with an enlarged rubber cover, which is safe and non-slip, and not hurt the floor. Ensure the safety during exercise.
Product Specifications
Brand: FBSPORT
Dimension: 36.2 x 15.5 x 10 inches
Weight: 27.84 Pounds
Weight Limit: 660 Pounds
Where to buy: $109.99 from Amazon | $89.99 from Walmart | $205 from eBay
Considerations for Purchasing a Utility Weight Bench
Getting fit and healthy is something that many people desire to do, but they also might think it takes a lot of gym equipment. As it turns out, it can often require something as simple as a utility weight bench. But which one? Read on to learn a few things you need to think about before you choose the best utility weight bench for you.
Stability & Weight Capacity

When you're working out, you should only have to focus on the job at hand, not whether or not your utility weight bench is going to collapse underneath you. Stability and weight limit matter a lot, so read the reviews and supplier information to determine what these are. Most utility weight benches will handle weight from around 300 pounds to 650 pounds.

Price

The price tag matters quite a lot on the hunt for the best utility weight bench. The less you pay, often the lower the quality of the bench. That's not to say that will always be the case. There are plenty of diamonds in the rough. However, often the lower the price, the smaller the bench. Prepare to pay a bit more if you want something more robust and larger.

User-Friendliness

The best utility weight bench is one that's compact, easy to store, fold, and assemble. The less time you have to spend doing all of these things, the more you can spend actually exercising.

Adjustments

To get the most out of your workout requires you to have a fully-adjustable weight bench. Pay attention to how you can adjust the bench, and whether it's going to suit your unique workout session.